For flange
Ø in mm


DIN 32676 sched. C /
ISO 2852


DIN 32676 sched. B /
ISO 1127


DIN 32676 sched A



Max. Working
Pressure @ 150° C
(bar)
Max. Test
Pressure
(bar)
Weight (g)



Order No.
Execution
Wingnut
Order No.
Execution
Hex-Nut
Type



25,0 mm
1/4" - 3/4"
08-10
06-08
20
100
150
100005
100006
SB
34,0 mm
10-15-20
20
100
170
100105
100106
SB
50,5 mm
1" - 1 1/2"
15-20-25
25-32-40
20
100
250
100205
100206
SB
64,0 mm
2"
32-40
50
20
100
330
100305
100306
SB
77,5 mm
2 1/2"
50
20
100
380
100405
100406
SB
91,0 mm
3"
65
65
19
95
440
100505
100507
SB
106,0 mm
3 1/2"
80
80
17
85
440
100605
100606
SB
119,0 mm
4"
100
14
70
570
100705
100707
SB
130,0 mm
4 1/2"
100
13
65
600
100905
100908
SB
Further information and images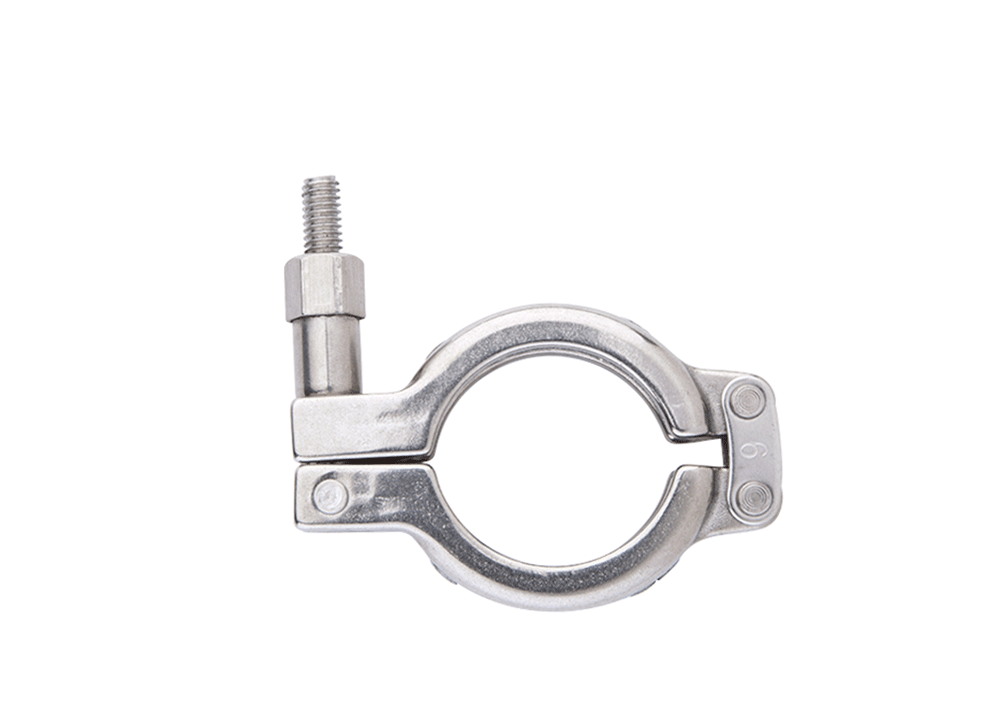 The 'gate' style section combined with the stepped eyebolt ensures that the clamps bolting mechanism cannot swing open whilst the clamping union is partly or fully assembled.
Releasing the clamp is only possible when the wing nut has been significantly loosened to enable the smaller diamter of the eyebolt to swing open and pass through the sectioned gate; this ensures the clamp cannot be knocked or accidentally opened.
Complete wing- /or hexnut removal is not necessary to open the clamp but the design
guarantees that the eyebolt cannot swing open whilst the union is subjected to either clamping forces or internal pressure.
It is not possible to open the clamp by accident. Thus this clamp fulfils the safety requirements of numerous end-users in the chemical-, pharameceutical- and food industry. These clamps are available in all common sizes.
Available Certificate: Certificate of Compliance Certificate EN10204 – 2.1